Vienna - Dürnstein Boat Trip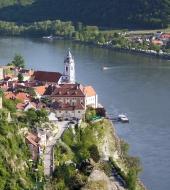 On sundays, the MS Admiral Tegetthoff, takes you from Vienna to Dürnstein in the Wachau valley. Enjoy the trip and the lovely view of the villages, meadows, and forests, along the river. There will be 2 hours' shore leave to spend in Dürnstein to discover the secrets of this picturesque village.
Departure Point: Vienna / Reichsbrücke; Landing pier no. 5. Handelskai 265, 1020 Vienna | U1 Vorgartenstraße
Departure Time: 08:30
Please be at the departure location at least 30mins before your designated departure time.
Arrival Time at Dürnstein: 14:30
Return Trip Departure Time: 16:40
Return Time at Vienna: 21:00

Tickets sent by email!
Powered by Ticketbar