Boat Ride with Dinner & Live Music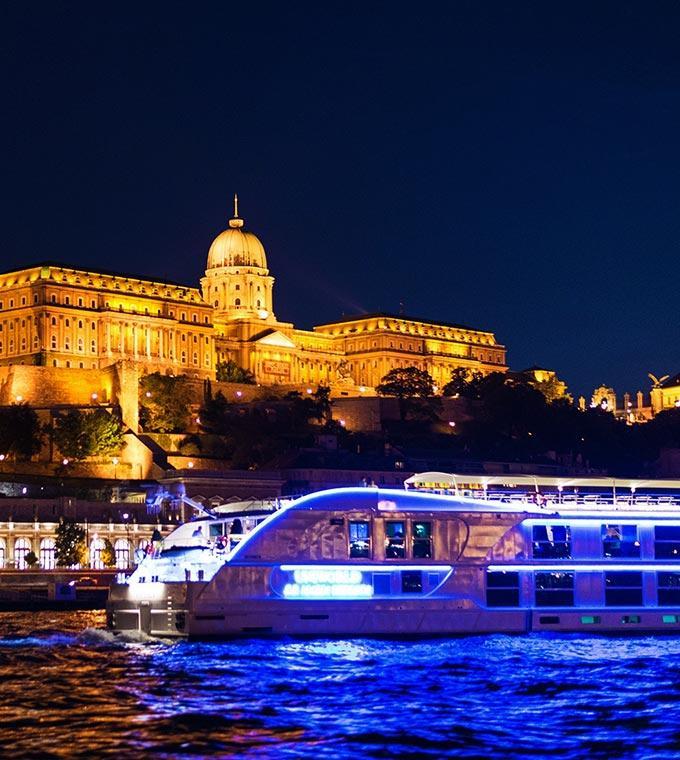 The vibrant city of Budapest has various faces. At night it calms down, the lights are lit, and a new city awakens after sunset.
We created this program for those, who would like to enjoy the wonderful view of the city swimming in lights, accompanied by a real candlelight atmosphere with a romantic dinner and live music. The delicious meals on our boats are prepared by Chef Molnárka Péter. The salon music is performed by 3 members of the Zoltán Kodály Awarded Hungária Folk Orchestra, including the world-famous violinist Zsigmond Vidák who was awarded the Bronze Merit Cross of the Hungarian Republic. Our program takes you on a 1,5-hour-long cruise on one of our air-conditioned/heated ships, on which you will also have the best view of the panorama from the upper deck of the ship.
Duration:
2 Hours
Departure times:
Our Dinner & Cruise with Live Music available all day of the year.
Starts 19:00, meeting time 18:30. (except 20th August, 24th and 31st December)
Meeting point:
Inside the Danube Palace (Zrínyi Street 5.). Please be at the meeting point latest by 18.30.
Please check the pickup service conditions
here
!
You can also book the option to be picked up from your hotel (+ 12€/person). You can find more information on your voucher.
Menu:
Cold entries
Spiced cottage cheese cream and traditional greaves cream
Soups
Alföld style goulash with small dumplings
From autumn to spring: Vegetable cream soup
Summertime: Cold fruit soup
Warm main courses
Mini stuffed cabbage
Traditional chicken leg "Paprikash"
Roasted chicken breast with basil-cheese sauce
Spicy pork rib with thyme – mustard sauce
Roasted sea fish with Chardonnay sauce
Garnishes and vegetarian
Grilled polenta with feta cheese
Grilled vegetables
Homemade dumplings with spinach and mustard-mushroom sauce
Steamed Jasmin rice with corn
Hash-brown potatoes
Steak potatoes
Dumplings
Salads
Fresh seasonal salads with dressings
Italian pasta salad
Caesar's salad
Sweet corn salad with mayonnaise
Season fruit basket
Desserts
Home-made strudel
Somló style sponge cake
Mini tarts
Dessert variations Európa style
Drinks
1 Welcome drink, 1 glass of wine (or juice) and 1 bottle of mineral water



Note:
The cruise is free of charge for children under 6 years old

Tickets sent by email!
Powered by Ticketbar